Milestone Petroleum Marketing Corporation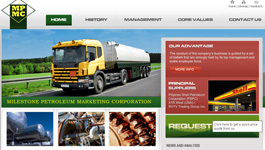 Milestone Petroleum Marketing Corporation is a prime distributor of fuels, lubricants and engine treatment products to the Philippine commercial-industrial sector. Its product line includes regular fuel oil (bunker fuel), diesel fuel, kerosene, special fuel oils (SFO), a full range of industrial lubricants and X1R Engine Treatment.
Milestone Petroleum is an authorized distributor of Pilipinas Shell Petroleum Corporation (Shell) for its fuel and lubricant products. It is also an authorized industrial sales dealer of X1R Engine Treatment and other X1R products (manufactured in Florida, USA).
Kabarkada Interactive is responsible creating the online brand and a custom hand coded content management system.
Technologies:
WordPress, PHP, MySQL, CSS, and javascript, HTML
http://www.milestone.com.ph/